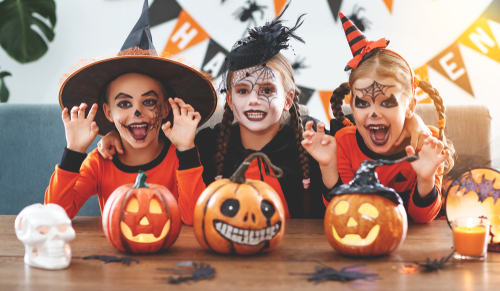 Are you and your family excited for Halloween? Is picking out costumes everyone's favorite part?
Halloween is one of the most fun times of the year. You get to dress up in costumes, go trick-or-treating and attend parties.
While it's fun, there are a lot of safety hazards to worry about too. Everyone wants their kid to remember how fun the holiday was, not that they got injured.
Every Halloween, hundreds of Americans end up in the emergency room with eye injuries. A lot of these injuries are because of makeup, masks, and costumes. Keep reading for 6 tips for Halloween Safety Month!
1. Make Sure You Can See

This point is so important. When deciding on a costume, make sure you aren't blocking your vision. If you wear a mask, wig, hat, or eye patch, make sure you can still see while wearing them.
Also, for little kids, make sure that hats or scarves are tied tightly so they do not fall over your child's eyes.
2. Trick-or-Treat During The Daylight

While this does not seem very Halloween, it is the safest option. While going trick-or-treating in the dark is spookier, it is easier to get injured.
You can trip and fall, miss a step, or get tangled up in your costume. If you do decide to go trick-or-treating at night, make sure you carry a flashlight to give you enough light.
3. Pick a Safe Costume

When picking a costume, you should make sure it is safe. It is important to pay attention to the length.
Make sure there's nothing dragging on the ground to prevent you from tripping or falling. Also, this means avoiding costumes with sharp points or props.
Sharp props include spears, swords or wands. Small kids should especially avoid these. They can hurt themselves or other kids' eyes.
4. Be Careful with Makeup

If you or your kids are going to be using products you do not normally use, make sure you use hypoallergenic makeup. Adults should put makeup on their kids.
When removing it, use cold cream instead of soap, which won't cause eye injuries or sting. Also, if at all possible, use makeup instead of masks.
5. Avoid Cosmetic Contacts

Cosmetic contacts can make your eyes look like anything under the sun. You can even change them to a different color!
They do come with the same risks as regular contacts. They are not harmless like you think! Using contacts incorrectly can cause serious eye conditions!
These include infections, swelling, pain, light sensitivity, pink eye, cornea injuries, and loss of sight. If you are going to wear cosmetic contacts, make sure to get a prescription.
Also, do not share or use someone else's contacts. If you see your kid wearing contacts, please ask where they got them. The only place you should get cosmetic contacts is from your eye doctor.
6. Be Careful with Decorations

While costumes can be fun, you can also be creative with decorations. For the safety of everyone, make sure to have your steps, porch, lawn, and door well-lit and obstacle-free.
Also, make sure that candles and jack-o'-lanterns are kept away from trick-or-treaters. The last thing you want to deal with is a Halloween costume that accidentally caught on fire.