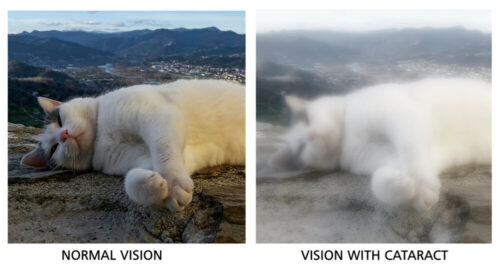 What is a cataract?
A cataract is a clouding of the eye's normally clear lens. The lens is behind the iris (the colored part of the eye) and helps to focus the image for clear vision. With age, and sometimes as a side effect of some medications, the lens becomes clouded with deposits. This clouding in the lens results in blurred vision.
What are the symptoms of a cataract?
Painless loss of vision
Changes in eyeglass prescription needs
Glare and light sensitivity
Reduced night time vision
A need for brighter light to read
Loss of color vision clarity
Cataracts are not:
A film over the outside of the eye
A result of eye overuse
Untreatable
While cataracts often affect both eyes, sometimes only one eye is affected. It is common for one cataract to be more dense, resulting in poorer vision in one eye compared to the other.
Why do cataracts form?
Most often, cataracts occur as a natural consequence of aging. Opacities form to a greater or lesser degree in everyone with age. A family history increases the risk of cataracts. Cataracts are also caused by:
Some medical problems, like diabetes
Direct injury to the eye
Medications, such as eye drop, inhaled or oral steroids like prednisone
Lifetime ultraviolet light exposure (sunlight)
Previous internal eye surgery
How is a cataract detected?
A comprehensive eye examination by an eye care professional (ophthalmologist or optometrist) can detect the presence and extent of a cataract. There can also be other reasons for worsened vision. Optic nerve disease, such as glaucoma, and retinal diseases, such as macular degeneration, can be evaluated during your exam. If another disease is present with a cataract, perfect vision may not be restored after removal.
How are cataracts treated?
At first, it may be possible to simply change your glasses prescription to enjoy some improvement in vision as a cataract worsens. Eventually, a cataract can progress enough that surgery is necessary for better sight. Cataract surgery is done when you can no longer see well to do activities that you need or want to do. When driving or reading becomes difficult, or when recreation activities or employment is impaired due to cataracts, it is reasonable to have surgery. It is not possible to treat cataracts with medication.
What is cataract surgery like?
Cataract surgery is done as an outpatient procedure. It can be done in a hospital or free-standing surgery center. While the surgery itself rarely takes more than 30 or 40 minutes it is typical for a patient to spend an hour in preparation before surgery at the center, and an hour recovering afterward. A three hour total stay is probably typical. During the surgery you will receive some sedative medication, so you will feel relaxed and not anxious, and pain controlling medication.
Your eye will be treated with drops, or possibly an injection of medication around the eye to insure it is well numbed. The cataract is removed with a tiny incision and an ultrasonic instrument. Once the cataract is safely removed an intraocular implant is placed in the eye. This lens implant makes up for focusing power lost when your biologic lens is removed.
Do I have to wait for my cataract to be "ripe" before surgery?
The concept of a "ripe" cataract is based on older surgery techniques. Surgery is done when your vision is reduced enough that you need help to see better.
What are the risks?
This is important to discuss with your doctor before surgery. Any surgery can result in problems that can leave you with the same or worsened vision. In general, the chance of problems is probably around 4-5%. This means that 95% of patients have some (or a lot of) vision improvement.
How soon can I get back to my regular activities?
Some surgeons suggest you not lift heavy objects or engage in strenuous activity for a while after surgery (typically three to four weeks). Many surgeons do not restrict your activity in any way, except maybe to limit swimming for a few days. It does take a few weeks to accurately tell what glasses will work best to supplement vision for distance and/or reading, but during that time you can resume virtually all of your regular activities.
Does a cataract come back?
Once a cataract is removed it is not physically possible for it to reform. A membrane left inside the eye and around the implant can become clouded at times, however. It is estimated that 20 to 50 % of patients have membrane clouding after surgery which can reduce their vision, much like the original cataract. Fortunately, this can be easily solved with a special laser that can open a hole in the membrane and restore their vision.