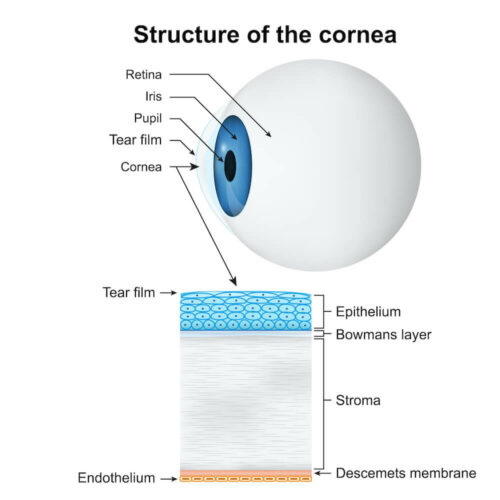 Physicians at EyeHealth Northwest are trained to diagnose and care for patients with corneal problems. We have 7 fellowship-trained corneal specialists available for consultation and surgery. Doctors Shane Kim, MD and Jordon Lubahn, MD practice at our East Portland, Gresham, and Glisan locations. Doctors Michael A. Page, MD and Amy Y. Tong, MD practice at our Northwest, Barnes Rd, Tigard and Wilsonville locations. Doctors Brett Gudgel, MD and Jason Skalet, MD practice at our Oregon City, Milwaukie and Sunnyside locations and Jacqueline Ng, MD practices at our Lake Oswego and Aloha offices.
The Cornea is like a crystal covering a clock face. It is a clear round dome covering the iris, the colored ring in the center of the eye, and the pupil, the black circle in the middle of the iris. The cornea plays an important role in vision by helping to focus light as it enters the eye.
The cornea is especially susceptible to injury. Foreign objects, abrasions, sports injuries, and chemical burns can all lead to serious harm and even blindness. Proper and timely care of an injured cornea is critical to ensure the best outcome. The doctors at EyeHealth Northwest work closely with the Emergency Room staff at all of the major hospitals in the Portland metropolitan area. An EyeHealth Northwest physician is available for emergency calls 24 hours a day. Answering service operators are accessible through our clinic phone.