LASIK Eye Surgery in Portland, OR
EyeHealth Northwest is a team of highly skilled dedicated eye care specialists and Board-Certified LASIK Surgeons in the Portland Metro area. We know that when it comes to your eyes, you expect excellence in surgery. We welcome you to visit our clinic for a consultation to find out what EyeHealth Northwest & Laser Vision Correction can do for you.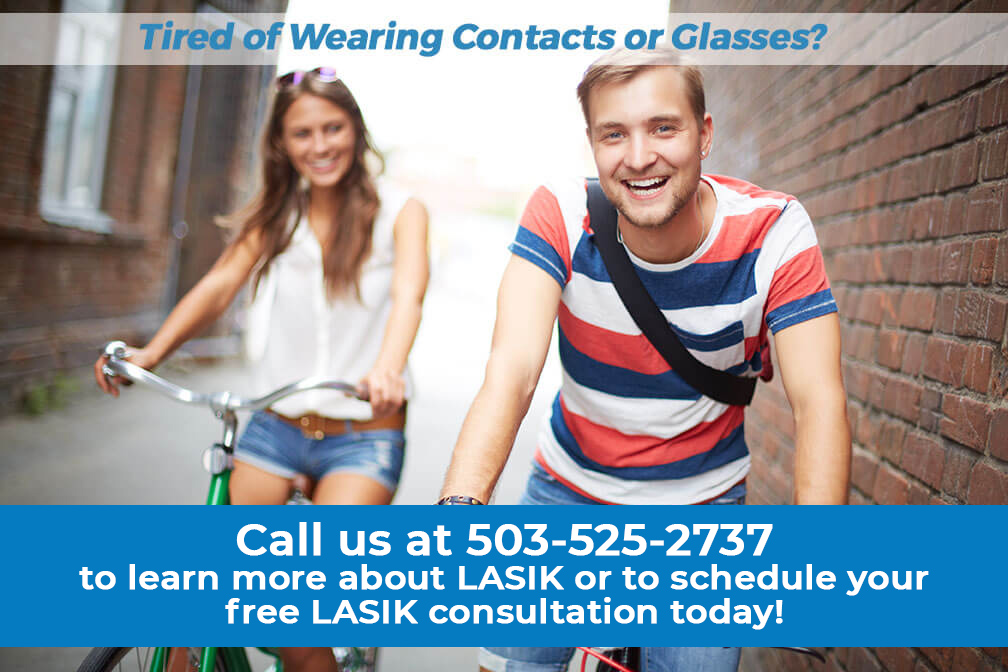 Our Promise to You
Our promise is to give you accurate information to confidently make this life-enhancing choice. Our commitment is to your total vision health, every step of the way (not just surgery). These are your eyes and who you trust with your precious vision matters!
Counseling and Advice
A trained, certified patient counselor will assist you throughout your entire experience.
LASIK Overview
Pre-Operative Consultation
Our surgeons personally conduct a detailed examination to determine your suitability and readiness for laser eye surgery before performing your surgery.
Board Certified LASIK Surgeons in the Portland Metro Area
One main reason people choose EyeHealth NW is our highly-skilled, experienced and dedicated surgeons. Our ophthalmologists are board-certified and specialized in the field of refractive surgery.
Investment in Technology
We invest in leading-edge technology including all-laser LASIK because it has proven to provide SAFE, ACCURATE and PRECISE results. EyeHealth NW LASIK surgeons use the Wavelight Refractive Suite which utilizes the FS200 Femtosecond laser, the EX500 excimer laser, and Contoura Vision topography.
Post-Operative Care
Our surgeons will monitor and care for you throughout your post-operative appointments.
Easy Payment Options
EyeHealth Northwest can help you manage your cost of surgery through our partnership with Care Credit, Care Credit offers interest-free financing payment plans up to 24 months helping make laser vision correction more affordable. We don't want finances to be an obstacle between you and vision freedom.
* flexible spending, insurance discounts may also apply.
During your consultation, you will have the opportunity to spend ample time with your surgeon and counselor who can provide you with all the information you need to make an informed decision regarding your treatment.
These are some of the more frequently asked questions from our patients.
Q: Who is a candidate for LASIK ?
A: At EyeHealth you will undergo a thorough pre-operative exam to determine if you are a good candidate. Our surgeons will not perform laser vision correction on a patient unless they believe they can achieve the patient's desired outcome. Stable vision and healthy corneas are critical. You must be 21 or older. You must require glasses or contact lens for clear vision. Astigmatism is ok. You should be in good general health and no active inflammatory disease. Your prescription must be stable over the year before surgery. You must not be pregnant or nursing or anticipate pregnancy 3 months or before or after surgery.
Q: How can I be confident that I won't have any complications following the LASIK procedure?
A: No one can guarantee perfect results. However, we always put safety first. You are carefully evaluated by our surgeons before your surgery and give specific instructions on how to prepare. EyeHealth is conservative when we qualify you for the procedure. YOU can be confident you are a good candidate for laser vision correction if you follow your pre and post-operative instructions you should achieve great results.
Q: Is LASIK safe?
A: Yes. However, all laser treatments are classed as surgical procedures and as such carry some degree of risk, although minimal. As a medical procedure, laser eye surgery has a very low complication rate-less than 1%. The vast majority of these complications are minor. Laser Vision Correction has undergone extensive scrutiny from public health agencies and the medical health profession. After more than a decade of research, complications significantly affecting vision are extremely rare. Your EyeHealth Northwest surgeon will discuss any potential complications with you.
Q: Are all lasers the same?
A: No. Unlike other laser providers, EyeHealth Northwest uses only the most technologically advanced LASIK equipment, the Wavelight Refractive Suite, delivering the safest and most precise results.
Q: Will I need glasses again after LASIK?
A: LASIK and PRK are considered to be permanent procedures. Laser vision correction will not change the normal aging process of the eye called "Presbyopia" a condition causing the eventual need for reading glasses.
Q: Does insurance pay for my LASIK Eye Surgery?
A: Currently, there are insurances that offer discounts for vision correction. Call your insurance company or talk with one of our laser vision coordinators to see if your insurance offers discounts. Flexible spending is also another way to financially plan for EyeHealth LASIK.
Q: Is financing available?
A: There are several different financing options available to our patients, including 0% interest plans for up to 24 months. Our laser vision coordinators can review the choices with you to find what best suits your needs. Click here to learn more about our financing options.
Q: What will I be able to see the next day after LASIK?
A: Most patients notice an immediate improvement in their vision and can resume their normal daily activities, including driving and exercising. Most patients will notice a continued improvement in their vision over the next 7-14 days.
Q: How long does LASIK surgery take?
A: The surgery for both eyes takes approx 30-40 minutes. You will be at our EyeHealth Laser Center for less than 90 minutes. Post-operative visits are scheduled at your normal clinic location. Patients are typically seen 1 -day, 1-week, 1-month, 3-month, 6-9 month.
Q: When will I be able to drive and be able to work after LASIK?
A: Most patients can resume their normal activities, including work, the next day after surgery. During your consult, your EyeHealth laser vision coordinator will advise you on what can be expected based on your type of work and procedure selection.
Q: Do I need to leave my contact lenses out prior to LASIK?
A: Yes. Depending on the type of lenses you wear, you will need to leave them out and wear glasses prior to treatment. Contact lenses may distort the cornea and lead to inaccurate measurements and treatments.
*Contact your coordinator for your recommendation.
Q: Will I experience discomfort during or after LASIK?
A: We use anesthetic eye drops that completely numb your eye so you remain comfortable throughout the procedure. After LASIK treatment, patients may feel some grittiness, light sensitivity and water for a short while. With PRK treatment, you may feel some mild discomfort after the treatment, potentially in the first 24-48 hours.
Q: What if I close or move my eye during my treatment?
A: Drops are used to eliminate the blink reflex, and an eyelid holder keeps your eye open. There is a very sophisticated eye-tracker that follows your eye as it moves during your treatment. If your eye moves out of line, the laser tracks the slightest of movements and stops pulsing.
Q: How much can I expect my vision to improve with LASIK?
A: 99% of patients are getting 20/20 or better. This not a guarantee of your personal result, you should be wary of 20/20 guarantees or lifetime enhancements.
Q: Who performs my surgery and why is it important?
A: Experience counts. Your EyeHealth LASIK surgeon personally performs your initial consultation, your surgery, and all post-operative care. When advising patients on their best options for LASIK surgery, they use their experience to guide you to the safest choice for your eyes even if that means continuing your glasses or contact lenses. Whatever your situation, you can be sure that our unique combination of eye care services ranging from routine check-ups for glasses to the most complicated surgical procedures will meet your needs. Our professional staff will greet you with a smile and treat you with courtesy and personal care throughout your visit. Our doctors have chosen to be community-based specialists because they enjoy working closely with patients and developing long-term relationships.
LASIK Portland, OR