Light Adjustable Lens (LAL)
The eye surgeons of EyeHealth Northwest have decades of experience performing cataract surgery. We offer the best implant lens for your procedure, including the new Light Adjustable Lens (LAL). With traditional intraocular lenses (IOLs), your surgeon performs measurements before surgery to select the best IOL to achieve your vision goals. Once your surgery is complete and the IOL has been implanted, your surgeon has limited options to adjust the lens power. If the IOL does not provide clear vision, you could need glasses or contacts.
With the Light Adjustable Lens, you and your surgeon can customize your vision after your eye has healed from cataract surgery. The Light Adjustable Lens is made of a special photosensitive material that changes the shape and power of your implanted lens in response to ultraviolet (UV) light. As a result, you and your surgeon will have the unique ability to adjust and preview your vision until it meets your desires and lifestyle requirements.
How does the Light Adjustable Lens work?
Before cataract surgery with other IOLs, your surgeon determines the strength of the prescription and placement of the lenses. These calculations are scientific, but they are projections. The cataract removal and IOL implantation procedure are the same as if you selected a non-adjustable IOL. What is unique about the Light Adjustable Lens is that, after your eye heals, you return to have your vision tested during a routine eye exam. Based on this exam, you and your surgeon will select a custom prescription for your adjustable lens based on your own eyes and unique lifestyle requirements.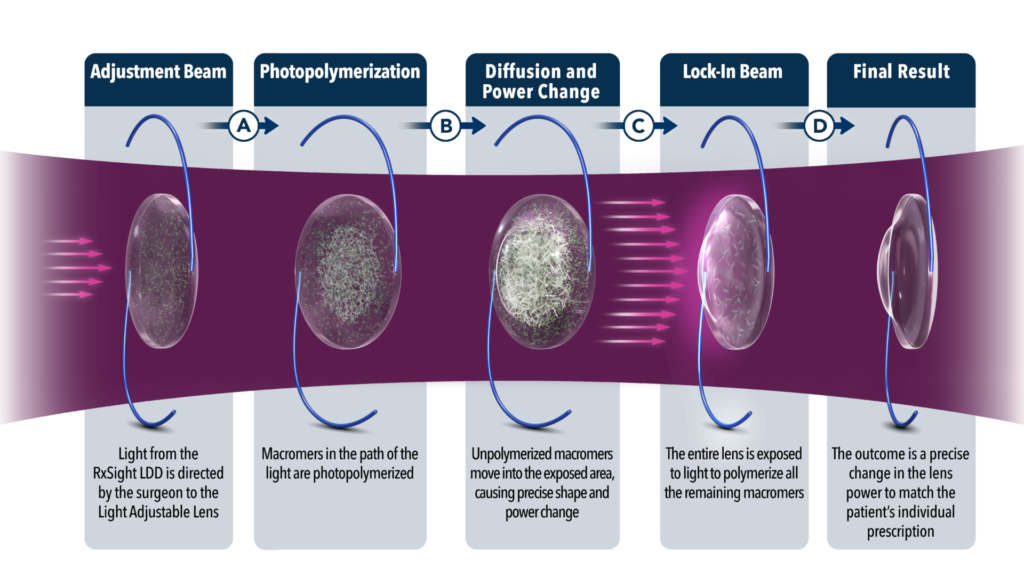 How does the Light Adjustable Lens Customize Vision?
When your eye has healed from cataract surgery after two-three weeks, you return to your EyeHealth Northwest office to begin the customization process. The Light Adjustable Lens gets adjusted in the office using a UV laser that changes the shape of the lens. When the lenses get struck by UV light, they bend and curve in different ways. Your surgeon calculates how the lens will change shape, considering how the lens will shift before adjusting it. Customizing your LALs takes two to four adjustments that are about ninety seconds each. Each appointment is three days after the last one until you find a vision setting that is perfect for you.
You must wear UV light-blocking glasses to prevent adjustments outside the office until you lock in your settings. Your surgeon will give you two pairs. One is a pair of sunglasses for wearing outside, and one is a pair of clear UV blockers for inside and nighttime use. You can only take the glasses off when sleeping, putting in eyedrops, and showering. Once you lock in your vision settings, you'll no longer need to wear the UV-blocking glasses provided by your eye doctor.
Ask your doctor about the revolutionary Light Adjustable Lens and determine if it could be right for you.