Lens implants have been used in nearly all cataract operations performed in this country since 1982. This wonderful invention allows patients to see after cataract surgery without thick glasses or contact lenses that were necessary for the past. These lens implants are called Implant Lens or IOL.
Today lens implant technology allows for more choices in vision correction benefits and outcome after cataract surgery.
Monofocal Wavefront Lens
Provides the superior quality of vision with glasses after surgery.
The most recent developments in lens technology involve what is called Wavefront design. Essentially a computer model of the human eye is used to increase our understanding of how we focus light rays for clearest vision. These studies have shown that a simple spherical lens intraocular implant can leave a patient with less than perfect vision. Wavefront design implants are aspheric, meaning the curvature of the lens surface changes depending on how far you are from the center of the intraocular lens. This more sophisticated shape improves the sharpness of a cataract patient's vision after surgery. At EyeHealth Northwest we only use the best intraocular lenses available. Using technology such as Wavefront design ensures that our patients obtain the best possible visual result from cataract surgery. A Wavefront lens is an excellent option for those who don't mind wearing glasses after their surgery and want to improve the quality of their vision.
Toric Lens
Provides quality distance vision without glasses.
For cataract patients with astigmatism, successful cataract surgery is only half the battle for regaining quality vision. EyeHealth Northwest offers the Toric lens implant, a design proven to correct both your cataracts and astigmatism simultaneously. Implanted in the eye to restore distance vision after cataract surgery, the Toric lens has a unique patented design that provides both spherical and astigmatic correction.
How Astigmatism affects your vision: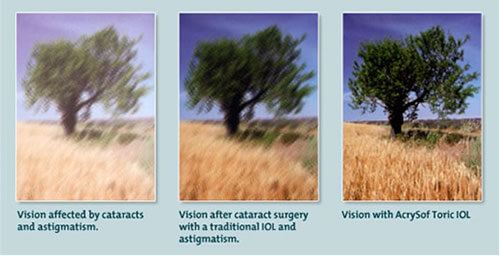 Multifocal or Extended Depth of Focus Vision
Corrects your distance, intermediate and near vision. Reducing your dependence on glasses for your activities after surgery.
Multifocal Lens
A multifocal lens implant provides excellent vision after cataract surgery at a variety of distances. For the vast majority of patients, having a multifocal lens implant means that you will be able to see at distance and up close without being dependent on glasses. Patients choosing to have a multifocal lens implant will likely find that they can drive, watch television, read or do crafts without the need for glasses.
Extended Depth of Focus Lens

The extended depth of focus (EDOF) lenses uses technology based on an elongated focal point in order to give patients freedom from distance and most reading glasses. These lenses are known to give excellent distance vision while still preserving intermediate vision range such as computer and smartphone use.
Good candidates for the Multifocal or Extended Depth of Focus lens should have realistic goals for their vision and receive a complete evaluation by an Ophthalmologist who specializes in deluxe lens implantation. EyeHealth Northwest has surgeons with vast experience in the implantation of these types of state-of-the-art lenses. Our surgery centers have access to all FDA approved lenses. EyeHealth Northwest is the largest provider of deluxe lens implants in the Portland Metro area.
As with any surgical procedure, there are associated risks and benefits. While there may be a decrease in the need for glasses some patients may notice rings around lights at night. These side effects may make it more difficult to drive at night or perform tasks in low light conditions. While virtually everyone experiences an improvement in vision after cataract surgery, some people will have a better-uncorrected vision than others. Therefore, it is important to discuss the potential risks and benefits with your doctor.