LASIK Portland, OR
Since the approval of laser vision correction in 1995, millions of people have eliminated their nearsighted, farsightedness or astigmatism and reduced their dependence on glasses and contact lens. EyeHealth NW performs two types of laser vision correction surgeries: Custom Blade-free LASIK and Advanced Custom PRK.
When considering laser vision correction eye surgery, most patients want the quickest recovery. We are going to consider your safety and quality of vision first and recommend what is best for your long-term eye health. Call us at (503)525-2737 to learn more about LASIK treatment options!
Custom LASIK: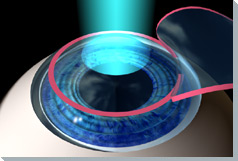 Your surgeon may recommend LASIK if your preoperative exam is within normal limits and you require a faster recovery.
Blade-free LASIK utilizes a femtosecond laser. This advanced technology laser generates a tiny beam of laser light to create your corneal flap, which is gently lifted. Your cornea is reshaped to your prescription with the laser and gently folded back into place. This combination of laser technologies is 100% blade-free and has been successfully performed on hundreds and thousands of patients. You are back to your normal activities the next day.
Surface Laser Vision Correction PRK/LASEK: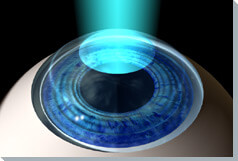 Your surgeon may recommend Surface Laser Vision Correction or PRK if you have thin, dry eyes, occupation/activities with risk of eye injury or have a preference for a flapless correction.
During Surface Laser Vision Correction/PRK, the laser reshapes the top surface of the cornea after the outer layer of epithelial cells are removed; a completely painless procedure. A bandage contact lens is placed on the eye for comfort during the surface re-healing. New layers of epithelial cells re-grow and heal over the treated area usually in three to five days. Most patients return to work in 4-5 days following surgery.
Surface Laser Vision and LASIK Comparison:
| | Surface Laser Vision Correction | LASIK |
| --- | --- | --- |
| Vision Correction Laser | WaveLight EX500 Excimer Laser | WaveLight EX500 Excimer Laser |
| During your Procedure: Intraoperative Pain | None | None |
| After your Procedure: Post-Operative Pain | Mild to Moderate 24 – 48 hours | Minimal 12 hours |
| Post-Operative Medications | 3 weeks | 1 – 2 weeks |
| Functional Vision Recovery | 3 – 5 days | 24 hours |
| Visual Results Fully Recognized | 3 weeks -12+ weeks | 1 – 6 weeks |
| Return to Work | 5 – 7 days | 1 – 2 days |