Posted by: Eye Health Northwest in Cataracts on July 22, 2022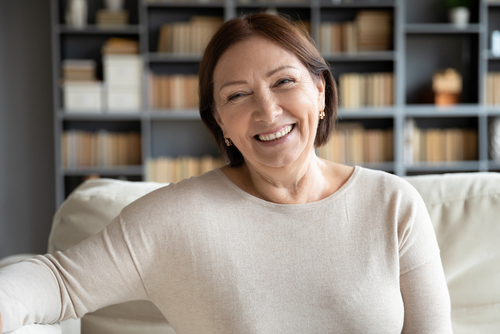 As your body ages, your eyes age as well. Cataracts are a natural part of the aging process and can cause various symptoms, including blurry vision up close.
The good news is that cataract surgery can restore your vision! Cataract surgery is minimally invasive, offers a quick recovery, and you can resume your everyday activities with clear, bright vision within days of the procedure.
Keep reading to learn more about cataracts and if vision loss due to cataracts is permanent!
What is a Cataract?
A healthy eye has a lens that's colorless and transparent. It's a disc that sits behind the iris, the colored part of the eye.
The lens is flexible and allows the eye to focus light, making objects both close-up and far away appear crisp and sharp. Due to aging, the lens can become cloudy and opaque over time, reducing the amount of light that enters the eye and affecting your sight.
The cloudy lens is called a cataract. Some describe it as looking through a fogged-up window.
Cataracts can also cause your vision to be blurry, make it harder to see at night, and make colors appear dim or faded.
Symptoms of Cataract
Cataracts can cause different symptoms in different people. However, there are some common symptoms.
If you're experiencing some of the symptoms below, it could be the start of cataracts:
Blurry, hazy, or cloudy vision
Colors that are faded, less intense, reduced, or have a yellowish tint
Glare from light sources
Double vision or ghosting of images
Difficulty seeing at night
Difficulty reading or performing other near activities
Cataracts often occur slowly. Because of this, you may not notice any apparent changes in your vision until they become more advanced.
Cataracts are commonplace among older adults. In fact, it's the most common cause of vision loss in adults forty and older.
Situations that Increase Cataract Risk
Cataracts can develop for other reasons beyond the aging process. In addition, certain factors may cause cataracts to develop earlier in life.
Some examples of these factors are:
Medical conditions such as diabetes
Certain drugs such as corticosteroids
A family history of cataracts
Previous trauma to the eye
Previous eye surgery
Smoking
When to Have Cataract Surgery
Typically, eye doctors will wait to recommend cataract surgery until your reduced vision impairs your daily activities and you have difficulty performing everyday tasks.
Cataract surgery will replace your cloudy lens with an artificial IOL implant that will restore your vision. Your EyeHealth Northwest eye doctor will help you determine which lens will best accomplish your goals.
When it's time for cataract surgery, you'll make the right choice with an EyeHealth NorthWest surgeon. Collectively, the surgeons at EyeHealth NW perform over 10,000 surgeries a year.
As leaders in cataract and laser surgery in the Portland Metro, our surgeons will help guide you through various options. You'll be able to make a choice that's compatible with your lifestyle and even reduce your dependence on glasses or contact lenses.
Your vision will not only be restored but will be better than ever.
Are you interested in learning more about how cataract surgery can restore your vision? Schedule an appointment at Eyehealth Northwest in Portland, OR, today!
---