Posted by: Eye Health Northwest in Eye Exams on August 8, 2022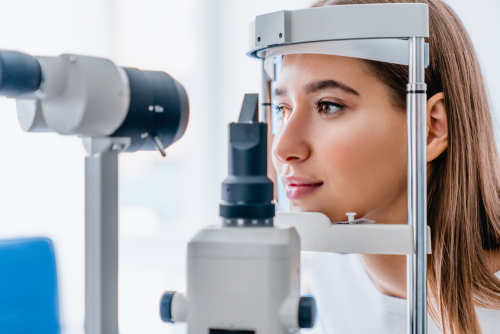 When you visit your eye doctor for your annual routine exam, it's essential to have a list of questions to ask your doctor. Besides educating you on the health of your eyes, much of the modern-day practice of ophthalmology is to help you understand your options in deciding on newer, easier, and more convenient ways to temporarily or permanently correct your vision. 
Next time you visit your eye doctor for an exam, take this list with you. The answers will put your mind at ease and help you decide on the next steps for your improved outlook on life, especially regarding vision.
Keep reading to learn four questions to ask your ophthalmologist at your eye exam!
1. What is Causing my Vision to Change Every Year?
Like everything else about your body, your vision changes as you age. From childhood to adulthood, your eyes will change.
Once you reach adulthood, typically, you reach a more stable state. If you have myopia, also known as nearsightedness, your eyes will still change, with the rate of change being different for everyone.
If you have good vision, you may not see any other changes in your sight until you reach middle age. Around the age of forty, you might notice some blurriness in your close-up vision.
This change in vision is often presbyopia, which is the age-related loss of the eye's ability to focus on nearby objects. Presbyopia is very common.
It happens to the majority of adults and is a normal outcome of getting older. To combat these changes, your eye doctor may instruct you to wear over-the-counter or prescription reading glasses.
2. Is My Dry Eye Something Worth Worrying About?
Many activities can dry out your eyes. For example, sitting too close to ventilation with hot or cold air blowing on you, especially your face, can dry out your eyes.
Spending hours on the computer reduces your frequency of blinking and can also cause dry eye symptoms. If you occasionally experience dry eye symptoms, it may be expected and not anything to worry about.
However, if your eyes are frequently red, itchy, burning, tearing, or sensitive to light, you could have dry eye syndrome. Chronic dry eye is a medical condition that should be managed so that you can stay comfortable with clear vision.
If your eyes are frequently dry, let your eye doctor know so they can determine the root cause and develop a treatment plan to improve your symptoms.
3. Should I Try Contact Lenses?
If you're someone who doesn't like having anything in or near your eyes, you've likely relied on prescription eyeglasses if you have difficulty seeing. Maybe you've heard a parent or older relative talk about the discomfort of contact lenses.
Contact lens technology is constantly improving the comfort and weight of lenses. Daily wear disposable lenses are the lightest and easiest contact lenses to adjust to.
Since they're meant for single use only, once you take them out of your eye, they can't be put back in, so you'll have to wear a fresh new pair. There's also much less risk of infection with daily lenses.
If you need vision correction but are tired of the restraints of glasses, ask about contact lenses at your next visit.
4. Am I a Good LASIK Candidate?
If you are eighteen or older, have not had changes in your vision in over a year, and are in good health, you may be a candidate for vision correction surgery. If you are interested in learning more about how LASIK or other types of permanent vision correction can improve your life and provide you with greater visual freedom, ask your eye doctor if you are a candidate.
Is it time for you to have an eye exam? Schedule an appointment at EyeHealth Northwest in Happy Valley, OR, today!
---