Posted by: Eye Health Northwest in Children on August 19, 2022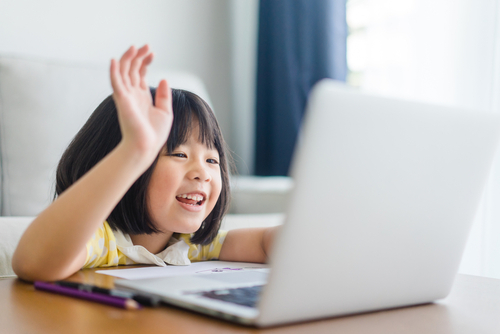 Before the back-to-school rush begins, take a moment to focus on your child's eye health. August is Children's Eye Health and Safety Month, and the American Academy of Ophthalmology has suggestions on how you can help protect and preserve your child's eye health for life. 
Give your child a leg up by ensuring that vision problems don't make the school year ahead harder. By guiding them toward good choices today, you'll help them create vision habits for the rest of their lives.
Model these behaviors yourself, and they'll follow your lead. Keep reading to learn what you can do to help your child during Children's Eye Health and Safety Month! 
Wear Protective Eyewear When Playing Sports
According to the National Association for Sports and Physical Education, more than 600,000 eye injuries related to sports occur each year. Also, approximately one-third of these injuries happen to children.
Always insist that your child wear protective eyewear. Choose the proper eyewear for the right sport.
Look for these labels when shopping for specially-designed eyewear to minimize injury in each sport. For example, choose ASTM F803 for basketball and ASTM F910 for baseball and softball (or ASTM F803).
For ice hockey, choose a helmet with a polycarbonate face mask or wire shield. Look for masks approved by the Hockey Equipment Certification Council or the Canadian Standards Association (CSA).
Wear Sunglasses Outside
No matter the weather and in every season, wearing sunglasses is the best eye safety habit you can instill in your child.
Sunglasses protect the eyes from harmful UV rays from the sun, and they're present on both sunny and cloudy days.
They can even prevent short-term conditions such as photokeratitis and long-term effects such as corneal damage, cataracts, and macular degeneration. Make sure to choose 100% UV protection by looking for a label or tag that indicates a UV400 rating or "100% UV protection."
Drink Enough Water
Staying hydrated is essential for whole-body health in both adults and children. Ensure your child replenishes the moisture lost on an average day, particularly in summer when their bodies perspire to stay cool.
Not drinking enough can lead to eye strain, blurry vision, and dry eyes.
Take Frequent Breaks From Digital Devices or Screens
No matter your age, the more you look at a computer screen, the less you blink. Blinking less impacts eye health.
Blinking lubricates the eyeball and keeps it moist. Less blinking leads to dry and irritated eyes.
And staring at a screen for an extended period can affect the muscles around the eye. Children are especially prone to eye fatigue.
Urge your child to take breaks with the 20/20/20 rule: look away from the screen every 20 minutes and focus on an object at least 20 feet away for at least 20 seconds. For every hour spent on a computer or device, have your child walk away for 10 minutes.
Don't Sit Too Close to Screens
For starters, establish two habits: keep your child at an appropriate distance from any screen, and have them look slightly down when viewing, not up. It's also essential to position device screens using the 1/2/10 rule: mobile phones at one foot, desktop devices and laptops at two feet, and roughly 10 feet for a TV screen.
Keep your distance and keep your vision clear and strong.
Do you want to learn more ways that you can help protect your child's vision? Schedule an appointment at Eye Health Northwest in Hillsboro, OR, today!
---