Posted by: Eye Health Northwest in Children, Eye Exams, General Eye Health on January 20, 2023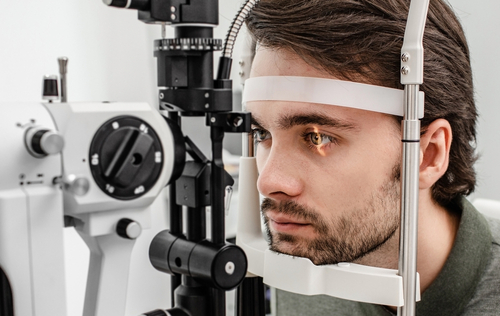 Regularly scheduled appointments with your eye doctor are the most effective way to detect vision problems and eye conditions early. Early diagnosis of eye disorders means early intervention and the best chance of treatment success. 
You may wonder how often you should schedule these appointments. The answer depends on the individual, their age, genetic factors, and whether or not blurry vision due to refractive errors is present.
Keep reading to learn more about how often you should schedule an appointment to see your eye doctor!
Eye Exams for Children
Early vision screening is performed during standard checkups if no vision problems are present at birth.
If and when it's indicated, children should have a comprehensive eye exam if there are concerns related to their vision.
Newborn to Toddler
In the hospital, every infant is checked for basic indicators of eye health.
Well-child visits with a pediatrician are scheduled between the ages of six and twelve months, and at that time, the eyes will be examined.
Between twelve and thirty-six months, the pediatrician will again look for signs that your child has healthy eye development. In the event of a problem, your child will be referred to a pediatric ophthalmologist.
Toddler to School Age
Vision and eye alignment should be checked in every child between three and five years of age. This can be done by a pediatrician, ophthalmologist, or optometrist.
Visual acuity and alignment screening should be scheduled at age five. At that point, a child can identify numbers and letters and read an eye chart, making the diagnosis of problems easier.
5 Years and Older
Children age five and older should have an eye exam every couple of years unless they have a refractive error. If they have a refractive error, like nearsightedness, they should visit their eye doctor more frequently to ensure their prescription is up to date.
Eye Exams for Adults
If you don't have a refractive error such as astigmatism, myopia, hyperopia, or presbyopia, and there are no other health issues, you can follow these guidelines.
In Your 20s and 30s
Adults starting at age twenty should have a baseline eye exam at some point in their twenties. One appointment is typically enough if no vision problems are diagnosed.
Schedule another one when you reach your thirties. During that decade, two eye exams are recommended.
However, if any vision or eye problems occur, such as an infection, injury, eye pain, or if you see sudden floaters or flashes of light, schedule an appointment with an ophthalmologist immediately. These could be signs of serious eye conditions.
A family history of eye disease or diabetes will require a schedule of routine checkups to stay on top of healthy vision. If this is part of your health history, let your doctor know.
In Your 40s to Age 54
Get a complete eye examination by the time you turn forty. At this time, changes in vision or early signs of disease often appear.
An early diagnosis means treatment can begin right after the onset of symptoms. Save your sight by responding immediately to any concerns. Don't let vision problems develop or worsen.
Diabetes, a family history of eye disease, and high blood pressure require regular monitoring, including regular comprehensive eye exams. Otherwise healthy adults in their forties up to age fifty-four can schedule eye exams every two to four years.
At fifty-five, schedule one every one to three years, depending on your eye doctor's recommendation.
At Age 65 and Older
Have your eyes checked annually. Age increases the risk for cataracts, diabetic retinopathy, age-related macular degeneration, and glaucoma.
Is it time for you or your child to have a comprehensive eye exam? Schedule an appointment at Eyehealth Northwest in Happy Valley, OR, today!
---