Posted by: Eye Health Northwest in Glaucoma on February 6, 2023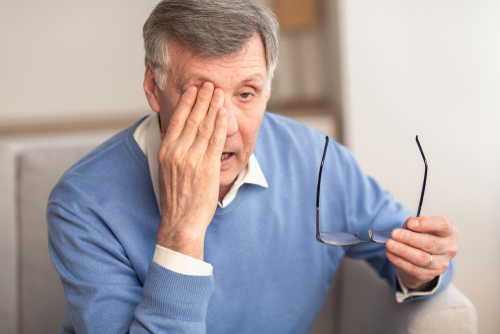 If you have family members who've been diagnosed with glaucoma, you may be wondering if it's hereditary or if you may be at risk for developing it, too. It's important to understand glaucoma so you can recognize any possible symptoms, take precautions and stay on top of your eye health. 
Glaucoma is the second leading cause of blindness, so catching it early is key to saving your sight. Keep reading to learn more about glaucoma and whether or not it is hereditary!
What is Glaucoma?
Glaucoma is typically caused when eye pressure levels are consistently higher than normal. The higher the pressure, the greater the chance of damage to your vision.
How Does Increased Eye Pressure Damage Your Vision?
Your eye is constantly creating fluid. At the same rate as the fluid is being created, it also needs to exit the eye through natural drainage channels consistently.
When this fluid cannot exit the eye consistently, the eye pressure will rise. The retina is located at the back of the eye and is connected to millions of sensitive nerve fibers that form the optic nerve.
The optic nerve carries electrical impulses to the brain, where they are interpreted as visual images. Increased intraocular pressure (IOP) pushes on those optic nerve fibers.
Too much pressure can damage and kill off these fine nerve fibers, which can affect your vision. In the beginning, damage may occur in your peripheral (side) vision, and you may not even be aware of the changes.
However, when enough nerve fibers are affected, you will experience loss of vision which is irreversible.
Why Does Fluid Build Up?
A healthy eye produces aqueous humor, a fluid that fills the front part of the eye and flows out through the eye's drainage system. Balancing this flow is essential to your vision.
If the eye cannot drain excess fluid, the buildup increases pressure.
Glaucoma is Hereditary
The most common forms have a genetic component. So if members of your family have had glaucoma, let your eye doctor know so they can closely monitor your eye health to catch any initial indications of glaucoma.
You will likely not be able to recognize early-stage glaucoma as are no symptoms in the beginning, yet it can be treated during this time frame. You may be developing the disease and not even know it.
Symptoms of Glaucoma
Glaucoma can lead to a loss of peripheral or side vision. It may feel like you're peering through a tunnel.
Eventually, central vision is reduced until blindness occurs. Distorted vision or blurry vision can also be indications of glaucoma.
However, most glaucoma patients will not notice any changes to their vision in the early stages, which is why routine eye exams are so important.
Who is At Risk For Glaucoma?
The risk increases with age, particularly for individuals over forty. A family history of glaucoma is another warning sign.
Those with diabetes, individuals with extreme nearsightedness, and those who've used steroid medications over a long period of time are also at risk.
Treating Glaucoma
There is no cure for glaucoma. However, treatments that lower eye pressure can prevent further damage to the optic nerve and prevent vision loss.
Your eye doctor may prescribe you eye drops that aim to decrease the production of eye fluid or improve the outflow of eye fluid. This will help maintain a healthier IOP.
In some cases, medicated eye drops may not adequately lower eye pressure. In this case, your eye doctor may recommend further treatment, like glaucoma surgery.
Microsurgery can help improve the outflow of fluid, and certain laser procedures can also provide relief from increased IOP.
Your eye doctor will discuss possible options with you to help you make the best choice to control your glaucoma.
Do you want to learn more about glaucoma or have your eyes screened for the condition? Schedule an appointment at EyeHealth Northwest in Portland, OR, today!
---