Posted by: Eye Health Northwest in Dry Eyes on April 21, 2023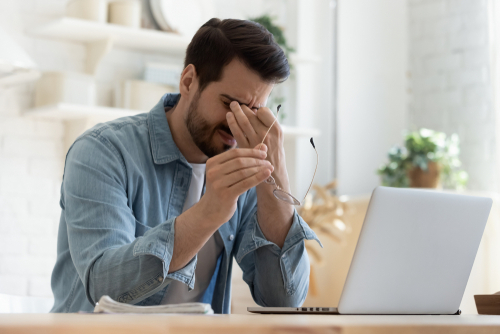 Ocular surface conditions can cause a range of issues, including irritation and blurry vision. Two common eye conditions that affect the surface of the eye are meibomian gland dysfunction, also called MGD, and dry eye syndrome. 
Meibomian Gland Dysfunction and Dry Eye Syndrome are not the same, but they are closely related. Keep reading to learn more about meibomian gland dysfunction and dry eye, including how they are related!
What is Meibomian Gland Dysfunction?
Meibomian gland dysfunction, or MGD, is a condition in which the glands in your eyelids that produce oil to help your tears lubricate your eyes become clogged. Oil is a necessary component of healthy tears.
Without oil, evaporation occurs faster, and your eyes become dryer.
What is Dry Eye Syndrome?
Dry eye syndrome, or DES, is a condition where the eyes do not produce enough tears or the tears produced are of poor quality, leading to dryness and discomfort in the eyes. While MGD is not the only cause of DES, it is a common underlying factor.
Understanding how tears protect your eye health is important to understanding how to maintain moisture in the eye.
Why Do Tears Matter?
When your eye is healthy, the right balance of moisture is maintained. Tears are essential for maintaining moisture and, thus, the health of the eye.
They lubricate the eye and reduce the chance of eye infection. Tears also wash away particles in the eye and keep the eye's surface smooth.
What Do the Meibomian Glands Do?
Lipids are produced by meibomian glands in the eyelid. When you blink, pressure on the glands causes lipids to release.
Also, each time you blink, a film of tears spreads over your eye. This tear film is what keeps your vision clear and bright and nourishes and protects the eye.
What's in the Tear Film?
A healthy eye is sufficiently lubricated with healthy tears eye. Dry eye is when your eyes aren't able to produce enough tears or the right quality of tears to maintain eye health.
Good quality tears have enough lipid, or oil, to lubricate the surface of the eye. Other components of healthy tears are mucin and aqueous, which comprise other layers of the tear film.
The oily layer smooths the surface of the tear and keeps tears from evaporating. This oily layer is produced by the meibomian glands of the eye.
When it's blocked, this can affect tear production. This is known as MGD or Meibomian Gland Dysfunction.
The watery layer is what we think of when we think of tears. It bathes and cleans the eye, washing away dirt and foreign particles.
This watery layer is produced by the lacrimal glands in the eyelid. The mucus layer is sticky and keeps the eye's surface moist by spreading the watery layer evenly across the eye.
This mucus layer is produced by the conjunctiva. The conjunctiva is a clear tissue that covers the whites of your eye and the inside of your eyelids.
Changes in Tear Production
When tears flow normally, and tear production is steady, eye health is maintained. However, tear production changes as we age.
When normal tear production slows down, or the quality of the tears is lacking, dry eye syndrome develops. Wind and dry climates can also cause tears to evaporate quickly, also leading to dry eye.
With DES, your eyes can appear red, feel scratchy as if there's grit or particles in them, itch and irritate you, and water excessively. A comprehensive eye exam with your eye doctor will determine next steps for treating your dry, irritated eyes.
Finding the root cause of your symptoms, whether it is MGD or not, will help them create a treatment plan to improve your symptoms.
Are you experiencing symptoms of dry eye syndrome or meibomian gland dysfunction? Schedule an appointment at EyeHealth Northwest in Portland, OR, today!
---