Posted by: Eye Health Northwest in Dry Eyes on May 1, 2023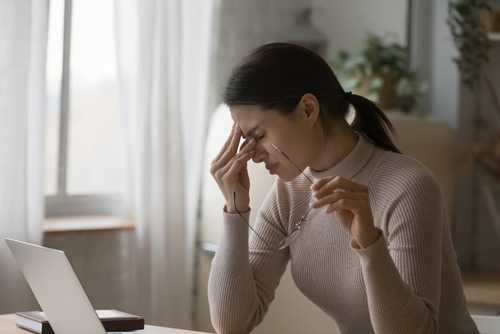 If you suffer from dry eye, you likely experience constant discomfort, from itching to a gritty feeling, as well as blurry vision or burning. When you're seeking relief from these symptoms, you'll try anything to lessen the effects.
There are many ways you can help improve your dry eye symptoms. Keep reading to learn if warm compresses are worth it!
What Causes Dry Eye?
In a healthy eye, there's a balance of moisture thanks to tear production. Tears lubricate the eye and reduce the chance of infection.
With every blink, a tear film spreads over your eye, washing away particles and keeping the surface smooth and protected.
Meibomian Gland Dysfunction
The most common cause of dry eye is MGD or meibomian gland dysfunction. Inside your eyelid are tiny glands called meibomian glands. They produce a liquid that protects the tear film.
When the meibomian gland becomes clogged, it can't release that protective liquid. That's when dry eye occurs.
The lids of your eyes can become dry and crusty, and the eyelash follicles can collect debris, making you even more uncomfortable.
Who is at Risk For Dry Eye?
Contact lens wearers, those who spend a lot of time on personal devices, postmenopausal women, and individuals with autoimmune disorders like rheumatoid arthritis and lupus are all at greater risk for dry eye. Certain medications, like beta blockers and antihistamines, can make you more prone to MGD.
Seasonal allergies, as well as dry and windy conditions can contribute to the problem.
How Warm Compresses Help
Heat and moisture can not only soothe irritated eyelids but can help to loosen debris and ease blockages. A heated eye mask worn for a period of time can increase hydration of the eyelids and improve oil production in the tear film.
If you choose to try a heated eye mask, these are typically heated to a recommended temperature in a microwave and applied for ten to fifteen minutes. Studies have shown that they can provide relief for those with mild-to-moderate MGD.
Heat and moisture from a washcloth soaked in water, wrung out, and placed over your eyes is also soothing. It can also help keep your eye moist.
As with an eye mask, wear the warm compress over your eyes for ten to fifteen minutes. This can be done morning and night.
Treating MGD with LipiFlow
Until recently, treatment for dry eye was difficult and not always effective. In some cases, at-home treatment methods like warm compresses may not adequately improve your symptoms.
Your eye doctor at EyeHealth Northwest may suggest a recent development in the treatment of dry eye and MGD: the LipiFlow® Thermal Pulsation System. It's a completely non-invasive procedure that uses therapeutic heat, and eyelid massage therapy to ease blockages.
LipiFlow is a medical device that heats up and massages the blockages. This treatment can be performed in minutes during an office visit.
Using Vector Thermal Pulsation technology, your eye doctor will apply heat and pressure to the blocked glands. This massage-like procedure will liquefy and clear the obstructions that cause dry eye symptoms.
If warm compresses are helping you to feel comfortable, use them to manage your dry eye. But if they're not providing enough relief, ask your eye doctor about LipiFlow.
Are you tired of dealing with the symptoms of dry eye on your own? Schedule an appointment at EyeHealth Northwest in Hillsboro, OR, today!
---