Posted by: Eye Health Northwest in Eye Exams on April 15, 2019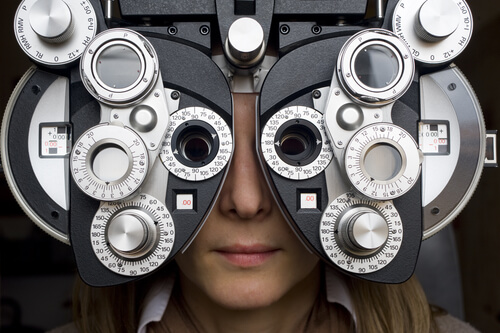 Do you remember the last time you had an eye exam? Are you trying to decide when to take your child in for their first eye exam? 
Getting your eyes checked is just as important as going to get your annual physical. 
Did you know that most adults and kids have not had a comprehensive eye exam in over a year? Also, around less than half of the adults in the U.S. got an eye exam in the last year. 
Prioritizing your eye health is extremely important, and we shouldn't forget it. Keep reading to learn why eye exams are important and how often you need them!
Why aren't your eyes part of your resolutions?
One of the most popular New Year's resolutions is to be healthier. For some it's eating more colorful and healthier meals. 
Others want to be more active and exercise. It can be as simple as getting regular physicals or dental checkups every six months. 
But why isn't an eye exam considered part of a healthy lifestyle? 
Kids learn from what the adults around them do. That includes watching us do the things that we need to do to stay healthy. This includes brushing our teeth, flossing, vaccinations, and annual doctor exams. 
If you have a certain family history or are a certain age, you need screenings for conditions. Developing these healthy habits at an early age is important for preventative medicine. 
Children
Regular eye exams are important for kids. Good vision is a key part of how kids are able to learn in school. About 80% of material is learned through visual methods. 
Around 6 months old, children should have their first eye exam. The next exam should happen around age 3 and the next one should be right around the time they start school. 
If your child has healthy eyes and no other risks, they should have eye exams every two years until they are 18. Children with risk factors for vision issues could need to have their first eye exam before 6 months. 
They'll also need eye exams more often during childhood. 
Some of the risk factors include being premature and having a low birth weight. They also include if the mother had an infection like herpes or rubella during pregnancy. 
Other developmental delays make you more likely to suffer from visual problems. If you have a family history of eye disease or physical illness, you're more likely to have visual issues as well. 
If your child wears glasses, they'll need annual eye exams to make sure their eyes are healthy.
Adults
Between ages 18 to 60 years old, adults should have eye exams at least every two years. Adults ages 61 and older need to have annual eye exams. 
Risk factors for adults includes family history. If your family history includes macular degeneration and glaucoma, you'll need frequent exams. 
You're also at a higher risk if you are diabetic or have high blood pressure. If you use prescription drugs that impact vision, this may change how often you need eye exams. This is also true if you've had previous eye surgeries or injuries.  
Depending on your age and medical history you could need an eye exam annually or every two years. It is important to come up with a schedule with your eye doctor. 
Can't remember when your last eye exam was? Schedule an appointment at EyeHealth Northwest in Happy Valley, OR today!
---