Posted by: Eye Health Northwest in General Eye Health on June 9, 2022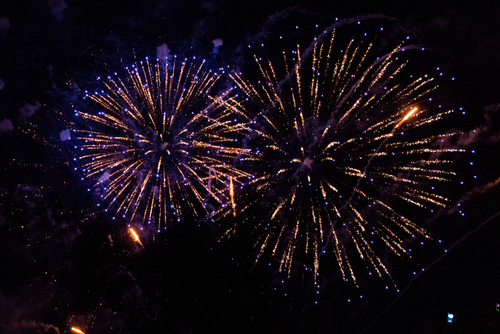 You probably associate June with weddings and graduation parties, not fireworks and cataracts! The American Academy of Ophthalmology, also known as the AOA, has named June Fireworks Eye Safety and Cataract Awareness Month.
It's an observance that highlights both ends of the life circle of eye health, from kids to older adults. Keep reading to learn more about what to do during Fireworks Eye Safety and Cataract Awareness Month!
Firework Awareness and Safety
June's a perfect time to learn how to safely enjoy fireworks since the Fourth of July is just around the corner! Keep in mind these six points to remember about fireworks safety:
1. Fireworks Are Not Toys
They're often advertised that way to appeal to kids and teens. But fireworks are best handled by professionals.
2. Fireworks Can Cause Injury and Death
Fireworks are known to cause injury, but they even can cause death in some instances. Of all the fireworks injuries treated annually in the ER nationwide, the majority happen between mid-June and mid-July.
3. Fireworks Can Blind
According to the Consumer Products Safety Commission, fifteen percent of all fireworks injuries result in eye injuries. They can cause chemical and thermal burns, corneal abrasions, and retinal detachment.
Permanent eye damage and vision loss can occur.
4. Many of Those Injured Are Children
According to the commission's report, children aged fifteen and under represent over a third of the total injuries. And half of the injuries requiring an ER visit happened to people aged twenty or younger.
5. Sparklers Are Not a Safe Fireworks Alternative
Don't let young children handle them because they burn at more than 2,000 degrees Fahrenheit. Sparklers were responsible for thousands of the injuries in the latest report.
6. Bystanders are also at risk
Another study found that the majority of people injured by fireworks were bystanders.
To celebrate July 4th safely and enjoy the thrill of fireworks, here's how to reduce your risk of injury.
Stay Safe at a Fireworks Show
If you're attending a professional public fireworks show:
Don't cross safety barriers
View fireworks from at least five hundred feet away
Stay away from unexploded fireworks
Stay Safe Using Legally Purchased Consumer Fireworks
If consumer fireworks are legal in your state and you're lighting them yourself, always use ANSI-approved protective eyewear. Choose glasses, goggles, or face shields labeled "ANSI Z87.1".
Always follow these instructions:
Keep younger children away
Closely supervise older children
Set off fireworks outdoors, away from houses, dry leaves, grass, or other flammable materials
Fill a bucket with water and keep it close for emergencies
Don't relight or touch malfunctioning or dud fireworks
Make sure bystanders are out of range
When lighting a firework, don't bend or lean any body part over it
Eye Injury Dos and Don'ts
Blunt force trauma to the eye, heat burns, and chemical exposure can all occur. Any eye injury is a medical emergency.
Seek medical attention immediately
Don't apply pressure, rub or rinse your eyes, or remove any objects stuck in the eye
Don't apply ointments or take blood-thinning pain medications such as aspirin or ibuprofen unless directed by a doctor
Cataract Awareness
A cataract is the clouding of the eye's naturally clear lens, and because everyone eventually gets them, they are one of the leading causes of vision loss. Vision is quickly restored when a cataract is surgically removed.
Cataracts may not be noticeable at first. But if you're experiencing cloudy, blurred, or dimmed vision, difficulty seeing at night, or glare or halos around lights, see your eye doctor.
All are early symptoms of cataracts. Regular eye exams are your best line of defense against experiencing decreased vision due to cataracts.
Don't compromise your sight! Are you ready to learn more about keeping your eyes safe and healthy and your vision clear? Schedule an appointment at EyeHealth Northwest in Happy Valley, OR, today!
---