Posted by: Eye Health Northwest in General Eye Health on December 20, 2022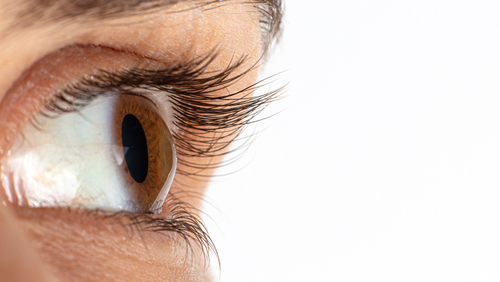 Keratoconus affects the cornea, the transparent dome that covers both the iris and the pupil, and can cause blurry and distorted vision. Keep reading to learn more about keratoconus!
Understanding the Cornea
The cornea helps you to see by focusing light onto your retina to form an image. In a normal eye, the cornea is domelike and curved.
But with keratoconus, the cornea bulges out into a shape that's more like a cone. This abnormal bulging also thins the cornea.
The normal domed shape of the healthy cornea focuses light. The abnormal cone shape caused by keratoconus distorts the light rays, so they don't land properly on the retina. Distorted, blurry vision is the result.
With poor focus, everyday tasks like reading and driving become more challenging.
What Causes keratoconus?
Researchers are still determining the cause of keratoconus, although there is a hereditary component. It's also associated with eye allergies, excessive eye rubbing, hay fever and asthma, and disorders of the connective tissue such as Marfan syndrome and Ehlers-Danlos syndrome.
Keratoconus appears in children and young adults between the ages of ten and twenty-five. The condition progresses slowly over ten or twenty years and then slows or may even stop. It often affects both eyes, though the results in each eye are different and create different visual symptoms.
What Are the Symptoms of Keratoconus?
At the beginning of keratoconus, symptoms include mild blurred vision and a slight distortion of vision. Straight lines may look wavy or bent.
You may also experience greater sensitivity to light and glare, which can make night driving difficult. Symptoms can change or grow worse over time.
Later-stage keratoconus includes increased nearsightedness or astigmatism, progressing to the point where you'll need new eyeglass prescriptions frequently.
What Are the Treatments for Keratoconus?
The blurry vision associated with early-stage keratoconus can often be corrected with glasses. You may not experience 20/20 vision, but your vision will be sharp enough for everyday activities.
As the symptoms worsen, your eye doctor may recommend specialized contact lenses designed for keratoconus. At EyeHealth Northwest, we recommend a type of hard contact lens to our keratoconus patients needing vision correction called a rigid gas permeable contact lens.
This type of contact lens can be worn to correct distorted vision. They are more effective at bringing vision closer to normal.
However, there may come a time when wearing contact lenses is no longer possible. In advanced stages of the eye condition, the cornea may bulge too much that it causes contact lenses not to fit correctly. This can cause discomfort.
Corneal Transplant for Keratoconus
When glasses and contacts aren't sufficient to correct vision, corneal transplant surgery may be necessary. A corneal transplant is only necessary for ten to twenty percent of patients with keratoconus.
During a corneal transplant, the distorted cornea is removed and replaced with a healthy donor cornea. Of all conditions requiring corneal transplants, keratoconus has the best prognosis for clear vision.
Start With an Eye Exam
If you're experiencing symptoms of keratoconus, a comprehensive eye exam will identify any irregularities in your cornea. Your eye doctor at EyeHealth Northwest will be able to measure the curvature of your cornea to make a determination, then will discuss options with you to help you decide on what treatment plan will work best for you.
Are you experiencing symptoms of keratoconus? Schedule an appointment at EyeHealth Northwest in Hillsboro, OR, today!
---