Posted by: Eye Health Northwest in Uncategorized on October 20, 2022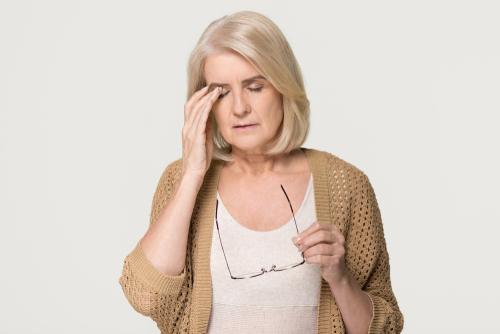 It is possible to experience temporary dry eye symptoms and not have dry eye syndrome. However, if you experience consistent or worsening symptoms of dry eye, it may be time to visit your eye doctor. 
While you may find relief with over-the-counter products and at-home remedies, if you have any of these troubling signs, mention them to your eye care professional at EyeHealth NorthWest so they can develop a treatment plan to bring you relief.
Keep reading to learn seven of the most troubling signs that your eyes are too dry!
1. Increased Tearing
Many people are often surprised to learn that increased tearing is often a sign of dry eye syndrome. Even though tearing might not seem like a symptom of dry eye, watery eyes may mean that the tears your eye produces are of inferior quality.
Tears without the right balance of oil, water, and mucus offer less protection to the eye, which can lead to dry eyes.
2. Eye Fatigue
Using a computer all day makes you more susceptible to dry eye. Looking at a screen on a computer or a device affects your rate of blinking.
With each blink, your eyes are coated with a tear film that lubricates and reduces moisture evaporation. You blink much less while on a computer screen, which can worsen your dry eye.
3. Eye Discomfort
If your eyes are significantly dry, you may experience increased discomfort or pain in your eyes. If this discomfort is frequent, your dry eye most likely requires treatment.
Sometimes, environmental factors can contribute to your dry eye. Sitting near an air conditioner or heating vent may increase eye dryness.
Are you starting to give up pleasures like reading a book or knitting because it's painful to try and focus on closeup work? Do you also wake up in the morning with gluey, gooey eyes?
All these reasons are indications that your dry eye needs to be evaluated to get relief.
4. Difficulty Wearing Contact Lenses
If your eyes are stinging or burning or constantly watering, wearing contact lenses can be challenging. Giving your eyes a break now and then from contact lenses can help when your dry eye symptoms are temporary.
However, if you're relying on your glasses because your eyes are too irritated for contacts, this may be a symptom of dry eye syndrome.
5. Blurry Vision
Sometimes the only symptom of dry eye is recurring blurry vision. You may have little to no discomfort, but you may find your vision isn't as clear as it used to be, and this is making everyday tasks difficult.
6. Antihistamines and Diuretics
Those who have seasonal allergies often take antihistamines and nasal decongestants for relief. While your nose will feel better, your eyes may dry out as a side effect of this medicine.
If you're taking a diuretic, that may also lead to dry eyes. If you have to take these medications, be sure to drink plenty of fluids to combat the dryness.
7. Hormonal Changes for Women
The significant hormonal shifts women experience throughout life frequently affect their eyes. Dry eye is common in women who've gone through menopause.
You're also at greater risk of developing dry eye while going through pregnancy or taking birth control pills.
Occasional dry eye is something many people live with. However, if your dry eye symptoms are constant and affecting how you live your life, tell your eye doctor.
Together you can come up with a plan to manage dry eye!
Are you ready to find treatment for your dry eye symptoms? Schedule an appointment at EyeHealth Northwest in Portland, OR, today!
---