Posted by: Eye Health Northwest in Cataracts, General Eye Health on June 16, 2021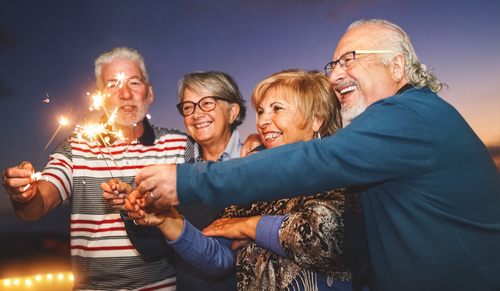 Have you heard of cataracts? Are you aware of the importance of protecting your eyes while using fireworks?
Not only does June mean the start of summer, but it is also Fireworks Eye Safety and Cataract Awareness Month. The American Academy of Ophthalmology wants you to learn about eye health and how to protect your eyes while using fireworks.
Every year, fireworks cause around 10,000 injuries, and cataracts are one of the leading causes of adult vision loss. Since there is an entire month dedicated to firework eye safety and cataracts, it's essential to learn about eye health.
Keep reading to learn more about fireworks eye safety and cataract awareness month.
What do I need to do to Protect my Eyes From Fireworks?
When you use fireworks, you must protect your eyes. So for this summer and the fourth of July, make sure you follow these tips to ensure your eyes are safe.
While using fireworks, you need to:
Stand at least 500 feet away from the launch spot
Act responsibly, don't goof around near fireworks
Launch fireworks in open spaces far from trees, houses, and other flammable things.
Keep water nearby
When a firework doesn't work, soak it in water and throw it out, don't try to light it again
Never stand directly above a firework when you are launching it
Don't try to make DIY fireworks at home
Once a firework gets launched, wait at least 20 minutes to let it cool, then soak it in water before getting rid of it.
While handling fireworks, make sure to wear safety goggles.
What are Cataracts?
Cataracts are when your natural lenses become cloudy. A healthy lens is clear.
The cloudiness comes from proteins in your lenses breaking down and clumping together. As the proteins clump, they cause a milky whiteness to form in your lens.
Patients say that having cataracts is like looking at the world through a cloudy window. For most people, cataracts are part of the aging process.
Signs and symptoms of cataracts include:
Cloudy or blurry vision
Trouble driving at night and seeing halos around lights
Many prescription changes in a short period
Colors look faded or tinted yellow
Needing more or stronger light to see clearly
Seeing double when you look at objects
Cataracts are not preventable or reversible. They are a natural development as you get older.
Can You Treat Cataracts?
However, you can treat them with cataract surgery. Cataract surgery replaces your cloudy natural lenses with clear intraocular lenses or IOLs.
During cataract surgery, your eyes get numbed, and an incision gets made in your cornea. This incision allows your surgeon to remove your natural lenses and replace them with IOLs.
There is a range of IOLs to choose from depending on your vision goals after cataract surgery. Your eye doctor will help you find the one that is best for your vision and lifestyle.
Cataracts develop and grow over time. In the beginning, they don't impair your vision, but as they mature, they can make it difficult to see.
When cataracts start impacting your life, your eye doctor will recommend cataract surgery. But only after they are interfering with your eyesight.
Are you ready to start prioritizing your eye health? Schedule an appointment at EyeHealth Northwest in Portland, OR now! Come talk with an eye doctor about cataracts or maintaining eye health around fireworks!
---