Posted by: Eye Health Northwest in Dry Eyes on May 28, 2021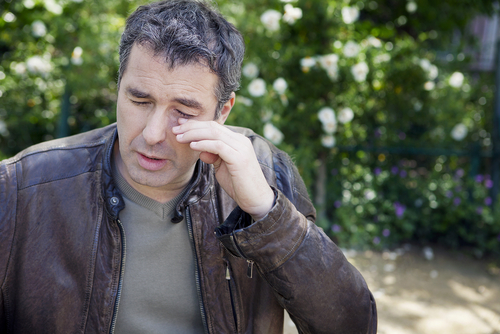 The cause of dry eye syndrome varies from person to person, and so do the treatments. But LipiFlow can be a good treatment for many people, especially if you have meibomian gland dysfunction.
Keep reading to learn about dry eye syndrome and determine if LipiFlow is right for you.
What is Dry Eye Syndrome?
Chronic dry eyes, also called dry eye syndrome, cause eye irritation, and inflammation. It is a prevalent and treatable condition that is due to inadequate hydration of your eyes.
If your eyes are always dry and itchy, you could have dry eye syndrome. Luckily, there are various lifestyle changes and treatments you can use to treat dry eyes.
Why Do Dry Eyes Occur?
Anyone can develop dry eye syndrome at any age, but it is more common for women to have dry eyes. There are a few different reasons why you may develop dry eyes.
Some include extended screen use, your environment, contact lenses, and allergies. But inadequate tear production is the most common cause of dry eye syndrome.
When you have dry eyes, you can over or underproduce tears. If you are overproducing tears but still have dry eyes, your tears are lacking a vital ingredient.
Your tears are made of water, oil, and mucus. Low-quality tears do not hydrate your eyes but instead cause dehydration.
Usually, this happens because they do not have enough oil in them. Water and mucus are what hydrate and keep your eyes healthy.
The oil prevents the mucus and water from evaporating. If your tears evaporate too quickly, your eyes become dehydrated.
What are the Symptoms of Dry Eye?
There is an entire range of dry eye syndrome symptoms beyond just dry eyes. These symptoms include:
A burning sensation in your eyes
Feeling like there is grit or something stuck in your eye
Underproduction or overproduction of tears
Tired eyes
Sensitivity to light
Red eyes
Difficulty driving at night
Wearing contacts is uncomfortable
Eye pain
Blurry vision
Itchy eyes are usually because of allergies. If you have itchy eyes from allergies, any of these dry eye symptoms can worsen your allergy symptoms.
Itchy and dry eyes can be a frustrating combination. The itchiness should be taken care of by your tears. But when your tears don't keep your eyes hydrated, they can't prevent the itchiness, and an uncomfortable cycle begins.
What are the Treatments for Dry Eyes?
There are numerous treatment options for dry eye. Some include drinking more water, prescription eye drops, artificial tears, and plugs for your tear ducts. All these treatments increase the amount of fluid in your eyes.
Another treatment for your dry eyes is LipiFlow. LipiFlow treats the lack of oil in your tears.
Is LipiFlow the Best Treatment for Your Dry Eyes?
LipiFlow is a good treatment for dry eyes because often, meibomian gland dysfunction (MGD) causes dry eyes. The meibomian glands are responsible for producing the oil you need in your tears.
MGD is when the meibomian glands in your eyelids get clogged. When they get blocked, it prevents the production of the oil needed to help moisturize your eyes.
LipiFlow is the only FDA-approved treatment for MGD that treats the inside and outside of your eyelids. It works by massaging both sides of your eyelids with gentle pressure.
At the same time, it applies low heat to the glands to loosen any blocks. The heat and pulsing pressure loosens any obstructions in the glands and draws the blockage out of your eyelid. That way, your meibomian glands can once again produce the oil you need to combat dry eyes.
Are your dry eyes unbearable? Schedule an appointment at EyeHealth Northwest in Portland, OR, to discuss LipiFlow and other dry eye treatments!
---