Posted by: Eye Health Northwest in Cataracts on December 30, 2021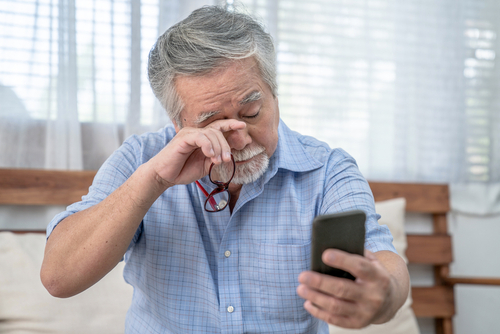 Do you see halos around lights while driving at night? Has your prescription for glasses or contact lenses changed frequently?
These are two signs that you could be developing cataracts. When you first start showing signs of cataracts, cataract surgery is not usually necessary.
Over time, your cataracts will continue to grow, impacting your ability to see. Once you reach the point where you can no longer do the things you love, it may be time to consider cataract surgery.
Keep reading to learn more about if laser cataract surgery could be right for you!
What is a Cataract?
The natural lens in the eye should be clear, making it easy to see through. But with age, you become more likely to develop cataracts.
Cataracts occur when the natural lens becomes cloudy, impairing your vision. Most patients say that having cataracts is like looking at the world through a foggy window. Cataracts are an almost inevitable part of aging. By 80, most people have already had cataracts.
What are the Symptoms of Cataracts?
Many symptoms signify you have or are developing cataracts. They depend on how advanced your cataracts are. The most common symptoms are:
Foggy vision
Difficulty telling the differences between light and dark
Having double vision
Difficulty seeing things far away like lights or a sign
Noticing glare or halos around lights
Difficulty driving at night
Needing more frequent prescription changes within a short time
Difficulty seeing details like a friend's face, reading, or sewing
Needing increased or stronger light to see clearly
Having trouble with depth perception like seeing stairs or walking safely around your home
The good news is that by having cataract surgery, many of these vision problems can be reversed, leaving you with clear vision.
How Do you Diagnose Cataracts?
Your eye doctor will perform a few easy, pain-free, and noninvasive tests. The tests evaluate the thickness of your cataracts, the results from glare and vision tests, and refraction.
Afterward, your eye doctor will discuss with you different treatment options. If you and your doctor decide that your vision issues are not treatable with a new prescription, getting cataract surgery is the remaining option.
The only way to effectively treat cataracts is to have cataract surgery. Fortunately, cataracts do not cause permanent damage to your vision, so there is no need to rush to remove them. Cataract surgery is commonly performed, making it incredibly safe to undergo.
Is Laser Cataract Surgery Right for Me?
Laser cataract surgery is very similar to traditional cataract surgery. Instead of using a blade to create incisions, the procedure uses a laser, making it more precise and accurate.
If you're looking for improved vision after cataract surgery, especially with astigmatism, then laser cataract surgery is a better option. It allows for greater precision while helping your surgeon have more control and resolves astigmatism better than previous methods.
Patients who undergo laser cataract surgery experience fewer complications. They also recover in less time. You may start seeing improvements to your vision in as little as 24 hours after the procedure. Laser cataract surgery is a state-of-the-art procedure that demonstrates the best advancements in eye care.
Do you think that you have cataracts? Schedule a cataract consultation at EyeHealth Northwest in Portland, OR, to find out!
---