Posted by: Eye Health Northwest in Children on August 14, 2020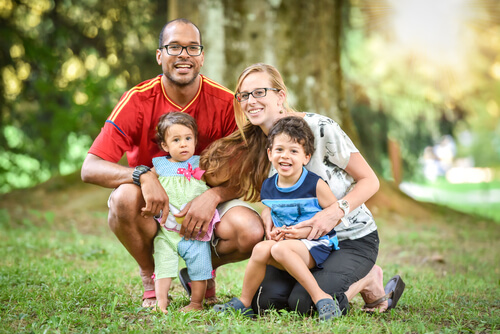 Do you wonder what you should be doing to keep your children's eyes healthy and safe? Are you aware that there's a whole month dedicated to this very topic?
Once August arrives, it is time to start thinking about your kids and what they need for going back to school. As you put together the list of things to do before school starts, it is important to remember to have your child's eyes examined.
This is why August is Children's Eye Health and Safety Month. It is a whole month dedicated to helping parents understand the importance of children's eye health, as well as safety. Keep reading to learn more about the importance of this month and how to keep your children's eyes safe.
When Should Children Have Their First Comprehensive Eye Exam?
At the age of three, your eye doctor will likely recommend that your child has their first comprehensive eye exam. During this exam, the eye doctor will look for any vision and refractive problems.
Some of the most common diagnoses for children include farsightedness, astigmatism, and nearsightedness. Children are also likely to be diagnosed with a lazy eye (amblyopia), color blindness (color deficiency), crossed eyes (strabismus) or drooping of the eye (ptosis). These conditions are easy to treat with eye drops, glasses or contacts, patches, surgery or other visual aids.
When your primary doctor thinks there could be a larger issue, they may refer you to an eye doctor or ophthalmologist to have other tests performed. It's important to be educated about what to look for in case your child is experiencing vision issues.
Some things you should look for include wandering or crossed eyes, not wanting to read or look at objects in the distance, having a family medical history of vision issues that start as a child, squinting or needing to look at objects from odd positions. This may manifest itself as tilting the head while trying to look at a sign.
How Can I Protect My Children's Eyes?
There are many easy ways to keep your children's eyes safe. The first includes proper eye protection when they are in the sun.
You should also make sure they wear protection when they take part in any sports. Whenever your child goes outside, they need to wear sunglasses or a hat to protect their eyes from the sun.
Protecting your child's eyes from the sun is important for maintaining good eye health. Another easy way to keep your child's eyes safe is not allowing them outside during peak hours. This is when the sun is at its strongest, from 10 am-2 pm.
Children should always wear protective eyewear when they are participating in sports. Some types of protective eyewear that you can get are goggles and protective glasses.
Another easy way to keep their eyes safe is to watch what toys they play with. You should make sure they are only using age-appropriate toys and that these do not have any sharp points.
The best thing you can do for your child's eyes is to bring them in for a comprehensive eye exam. Making sure they have healthy eyes will help them succeed.
This is true for both school and any sports they may play. Having healthy eyes will help your child's physical development, mental health, and well-being.
Do you think it's time to bring your child in for a comprehensive eye exam? There's no time like the present! Schedule an appointment at EyeHealth Northwest in Portland, OR now to see one of our great eye doctors!
---