Posted by: Eye Health Northwest in Children on August 13, 2021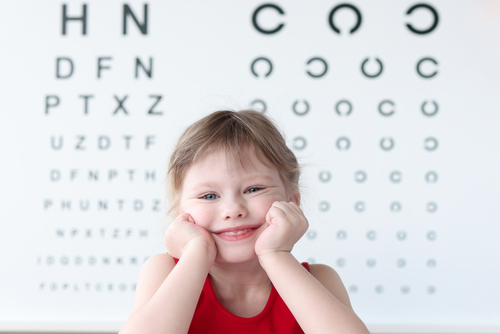 Do you ever wonder about your child's eye safety? August is Children's Eye Health and Safety Month, an entire month dedicated to helping you keep your children's eyes safe!
With the beginning of the school year right around the corner, it's crucial to think about how you can keep their eyes safe. An important activity to do before school starts is to take your kids to get a comprehensive eye exam.
The American Academy of Ophthalmology has dedicated August to help you see why this is so important. Keep reading to learn how to protect your children's eyes during Children's Eye Health and Safety Month and beyond.
Children Need Comprehensive Eye Exams
Children should begin having comprehensive eye exams at age three. The eye doctor can help detect vision or refractive problems that could interfere with your child's development.
Some of these issues are farsightedness, astigmatism, and nearsightedness. Other potential problems are:
Color blindness, or color deficiency
Crossed eyes, also called strabismus
Lazy eye, also known as amblyopia
Drooping of the eye, or ptosis
If diagnosed, all these eye conditions are treatable.
Do Your Kids Have Vision Problems?
If your family doctor thinks your child has an eye issue, they will refer you to a specialist. They will help you schedule an appointment with an eye doctor for extra tests.
You should be aware of the different signs that your child has vision problems. Warning signs can include:
Wandering or crossed eyes
Not wanting to read or look at objects that are far away
Family medical history of vision issues as a child
Squinting or looking at things from odd positions
If you notice any of these potential symptoms, mention them to your primary care physician. They will help determine what could be going on.
Eye Safety is Eye Health
Ensuring that your child's eyes are safe is another part of making sure your child has good vision. That's because the leading cause of vision loss in children is eye injuries.
Roughly forty thousand sports-related eye injuries occur annually in the United States. Most of these injuries happen to children.
You can help keep your children's eyes safe by following some simple steps. When they take part in sports or other contact activities, they should wear protective eyewear.
Some examples of protective eyewear are goggles or protective glasses. Even if the sport or activity has no protective eyewear rule, you should still have your child use protective eyewear.
Additionally, another way to make sure that kids' eyes remain safe is to play with age-acceptable toys. For younger children, toys that do not have sharp or pointy parts are best.
Healthy Eyes are Key for Development
Help your kids be successful in school this year by taking them for a comprehensive eye exam. Your child's physical development and well-being depend, in part, on good vision.
Vision problems can impair children's learning and self-esteem. It's better to treat a problem with their eyesight than let it negatively impact other areas of their life.
Also, make sure to continue to protect their eyes to prevent any injuries. The more you can help your children be happy and healthy, the more successful they can be. Proper eye care is one way you can do just that!
Is it time to bring your child in for an eye exam? Schedule an appointment at EyeHealth Northwest in Portland, OR now to get your kids the treatment they need!
---