Posted by: Eye Health Northwest in General Eye Health on March 3, 2023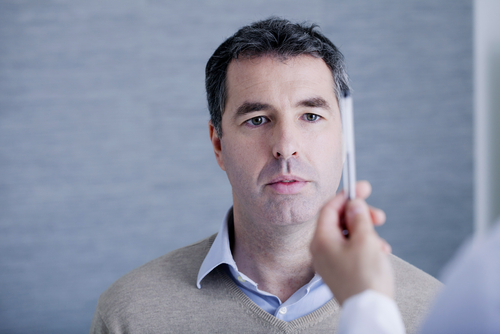 While strabismus is more commonly diagnosed in children, adults can experience this eye condition as well. You may not realize you have strabismus until you start seeing double lines of text on your phone, tablet, or computer. 
You may see two sets of headlights when you're driving at night, or others may recognize that one of your eyes is not aligned properly. Keep reading to learn more about strabismus and if adults can develop strabismus!
What is Strabismus?
Strabismus occurs when the eyes do not align properly. Strabismus often causes one eye to appear to be looking in another direction.
For example, one eye may look straight ahead while the other eye turns in, out, up, or down. Since both eyes must aim at the same spot together to see properly, strabismus impacts your vision.
Strabismus is usually related to a problem in the eye muscles, which must be balanced and working together.
What Causes Strabismus?
Strabismus is usually related to an issue with your eye muscles. To focus and coordinate the vision, eye muscles must be balanced and work together to position the eyes appropriately.
Most adults with strabismus have had it since childhood, but others develop it later in life. Often, as the eye ages, the muscles don't function properly, or they weaken.
For adults who've had strabismus as children, the condition can reappear.
Certain health conditions increase the risk of strabismus, particularly those affecting circulation or neurological function.
Possible causes of strabismus in adults include:
Diabetes
Thyroid diseases such as Graves' disease
Myasthenia gravis
Brain tumors
Strokes or mini-strokes
Accidents or head injury
Damage to eye muscles during eye surgery
What Are the Symptoms of Strabismus?
These may be consistent or may worsen or lessen depending on specific activities. It may only happen when you're looking in one direction or another.
You may not realize that you tilt your head to see better or shut one eye to see more clearly. Some common symptoms of strabismus are double vision, blurry vision, difficulty reading, or a loss of depth perception.
The onset can be sudden or gradual, and distortion may occasionally occur or only in specific situations. You may also feel like your eye muscles are weak and have the sensation of something pulling around your eyes.
If you're experiencing any of these symptoms, visit your eye doctor for a proper diagnosis.
Are There Different Types of Strabismus?
It's estimated that four percent of American adults will experience strabismus in their lifetimes. There are four types, and they describe the misalignment of the eyes:
Esotropia: one eye deviates inward
Exotropia: one eye deviates outward
Hypertropia: one eye deviates upward
Hypotropia: one eye deviates downward
How Do Eye Doctors Treat Strabismus?
The best treatment options for strabismus will depend on the severity of the condition. For those with mild strabismus, a special glasses prescription using prisms can help to realign the eyes.
In more severe cases, surgery can improve alignment, depending on the type of strabismus. Surprisingly, though long regarded as a condition affecting mostly young children, strabismus is also common among adults.
If symptoms or changes in vision affect your ability to do tasks you've always done easily, talk to your eye doctor about what you're experiencing. Treatment can improve your daily life and make a significant difference in your quality of vision.
Are you experiencing changes in your vision or double vision? Schedule an appointment at EyeHealth Northwest in Hillsboro, OR, today!
---