Posted by: Eye Health Northwest in General Eye Health on March 16, 2020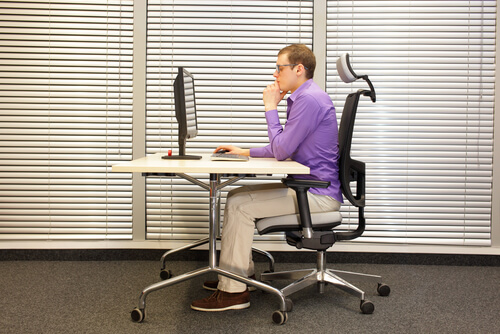 Are you looking for new ideas to keep your employees healthy? Did you know there is an entire month dedicated to workplace eye wellness? 
Making sure that your employees stay safe and healthy is important for a safe workplace. Eye health and safety is important for all work environments. 
Each day, thousands of Americans deal with an eye injury. What does this mean? It means that each year almost 1 million Americans get an eye injury. 
Eye injuries cost millions of dollars in lost work time, medical expenses and worker's compensation time. All of these things affect companies. Keep reading to learn more about the importance of Workplace Eye Wellness Month!
What types of companies should have Workplace Eye Wellness Month?
The short answer is all of them! You may think that eye injuries only happen at outdoor jobs like a construction site. What you may not realize is that this is not true.  
Employees working in an office can get injuries too. Office workers are especially likely to suffer from a condition called Computer Vision Syndrome. Computer Vision Syndrome (CVS) is most likely to occur if you spend a lot of time looking at digital devices. 
What is Computer Vision Syndrome?
Employees using screens all day can develop computer vision syndrome. It is not a permanent condition. 
Although it is not permanent, your eyes still feel tired and strained. Computer vision syndrome causes headaches, dry eye, and neck and back pain. Also, it can make it difficult for employees to stay focused. 
How can we help employees stay healthy?
A healthy employee is a more productive employee. That's why it's important for employees to stay healthy. 
Concerned that your employees may be suffering from Computer Vision Syndrome? Try some of the following tips in your office:
Encourage Breaks
Taking breaks is not only good for your employees' eyes but their bodies as well. Getting up and moving allows the body to reset. 
Your eyes need to look at things besides a screen every hour or so. Also, a break could be as simple as getting up for a glass of water or a snack.   
Tweak Your Employee Desk Design
Think about how your employees' desks are designed. Keeping all computer screens at a 90-degree angle away from direct light is important. 
Also, providing anti-glare screens or screen protectors helps too. They help make looking at a screen easier on your employees' eyes. By preventing glare, your employees are less likely to have symptoms of eye strain or fatigue.   
Create Posters About Eye Health
Remind your employees about the importance of eye health. For example, you can explain the 20-20-20 rule. 
The 20-20-20 rule is simple: every 20 minutes, take a break from looking at your screen. This should be to look at an object that's 20 feet away for 20 seconds and not a screen. 
Doing this every twenty minutes helps eyes blink more and reduces strain. It also never hurts to remind your employees to blink and drink more water.  
Set Up A Water Area In Your Office
If you don't already have one set up, add an area where your employees can get water in your office. Drinking enough water is crucial for healthy eyes. 
Hydration is one of the easiest ways to prevent dry eye syndrome from ever beginning!
Looking for more ways to keep your eyes healthy? Schedule an appointment at EyeHealth Northwest in Hillsboro, OR today!
---