Posted by: Eye Health Northwest in Uncategorized on October 15, 2021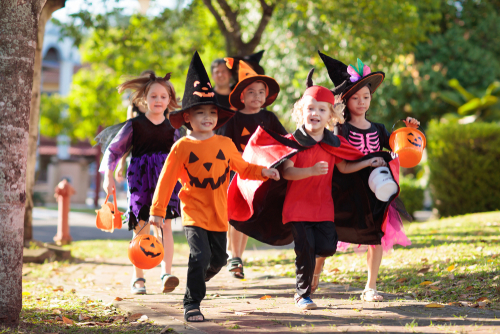 Are you preparing for Halloween? Do you think about different ways to stay safe around Halloween?
It's one of the spookiest and fun times of the year, thanks to costume parties, costumes to pick out, and taking kids trick or treating. While Halloween is filled with fun, there are safety hazards to think about too. Remember the fun you can have during Halloween, but it is essential to remember to be safe.
Every Halloween, hundreds of people end up in the emergency room with eye injuries. Many of these injuries are related to makeup, masks, and costumes. Keep reading for 6 tips to follow during Halloween Safety Month!
Make Sure You Can See
This point is so important. When you decide on a costume, make sure that you pick one that does not have a mask, wig, hat, or eye patch that blocks your vision. Also, make sure that hats or scarves are tied tight enough to not fall into your child's eyes for young children.
Trick-or-Treat in Daylight
While this does not seem very Halloween, it is the safest option. Though going trick-or-treating in the dark is spookier, it is easier to get injured.
You can trip and fall, miss a step, or get tangled up in your costume. If you decide to go trick-or-treating at night, make sure you carry a flashlight to give you light.
Pick a Safe Costume
When picking a costume, you should make sure it is safe. It is necessary to pay attention to the length so that nothing drags on the ground to prevent you from tripping or falling.
Also, this means avoiding costumes with sharp points or props. These props include spears, swords, or wands. Small children, in particular, should avoid these. They can hurt themselves or other children's eyes.
Be Careful with Makeup
If you or your children are going to be using products you do not usually use, make sure it is hypoallergenic makeup. Adults should put makeup on for their children and remove it with cold cream instead of soap. Also, if at all possible, use makeup instead of masks.
Avoid Cosmetic Contacts
Cosmetic contacts can make your eyes look like a cat or a different color, which can be fun around Halloween. They come with the same risks as regular contacts, meaning they are not harmless like you think!
Misusing contacts can cause serious eye conditions like infections, swelling, pain, light sensitivity, pink eye, cuts and scratches on your cornea, and potential loss of sight. If you are going to wear cosmetic contacts, get a prescription for them.
Also, do not share or use someone else's contacts. If you see your child wearing contacts, please ask where they got them and have them take them out if it's not from your eye doctor.
Be Mindful of Decorations
While costumes can be fun, you can also get creative with decorations. For the safety of everyone, make sure to have your steps, porch, lawn, and door well-lit and obstacle-free.
Also, ensure that all candles and jack-o'-lanterns are kept away from areas where trick-or-treaters will be walking so costumes do not catch on fire.
Keep your eyes safe this season by making them a priority! Schedule an appointment at EyeHealth Northwest in Portland, OR, to see one of our great eye doctors!
---