Posted by: Eye Health Northwest in Uncategorized on October 29, 2021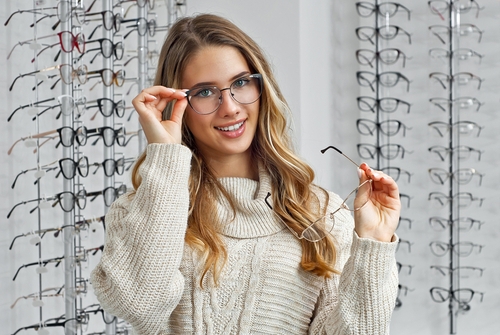 Did you get a new vision prescription, or are you in the mood to get new glasses? Finding new glasses can be a fun activity.
You can explore glasses made from different materials and try on different styles. However, if you haven't liked your glasses in the past, you may need to ask better questions when shopping.
Keep reading to learn about five helpful tips for buying your next pair of glasses this fall.
Get Your Eyes Examined First
The first step when getting new glasses is figuring out what your prescription is. You need to see your eye doctor so they can test your visual acuity and figure out your refractive error.
This knowledge helps them determine your prescription, which corrects nearsightedness, farsightedness, and astigmatism. Also, during an eye exam, they check the health of your eyes too.
These health checkups are essential to your eyesight. They need to ensure you don't have conditions like cataracts, dry eye syndrome, glaucoma, and macular degeneration. These are all potentially damaging conditions that are diagnosable during an eye exam.
Try on Different Types of Frames
To get an idea about the types of glasses you like on your face, you should try different styles. You need to decide between various materials, shapes, colors, lens types, and more.
Looking online and in stores will help you understand what is available and what you like. Also, remember that some websites let you "try on" frames virtually by uploading a picture of your face.
Find Out What Shape Face You Have
When you're buying glasses, you want to make sure they look good on your face. The best way to achieve this is by knowing your face shape.
The different face shapes are triangle, heart, round, diamond, rectangle, and oval. Each face shape has a different style of frames that look best on it.
You should always look for glasses that compliment the shape of your face. An optician can help you find the best-shaped glasses for you.
Decide on Your Budget
Knowing your budget helps determine a few things. Your price range defines the material of your glasses, how many pairs you get, and if you get extra coatings or not.
If you wear your glasses daily and can't afford two pairs, then maybe you should get a more neutral-looking pair with extra protection. Neutral shapes and colors will go with any outfit, and the additional protection will help them last longer.
So before you start looking at glasses, decide how much you're willing to spend. That way, you know what types of frames, lenses, and protective coatings you may want.
Decide if You Want Coatings or Glare Protection
If you use your glasses daily, you might want to think about getting special coatings in your lenses. Coatings can reduce glare and reflections and protect your eyes from blue light.
Special coatings can help make looking at a computer easier. Or they can reduce squinting in the sun.
Getting new glasses can be a fun experience, and it's much easier when you know precisely what you want.
Are you ready to get your next pair of glasses? Schedule an appointment at EyeHealth Northwest in Portland, OR, to talk with an optical specialist!
---