Posted by: Eye Health Northwest in Macular Degeneration on September 6, 2023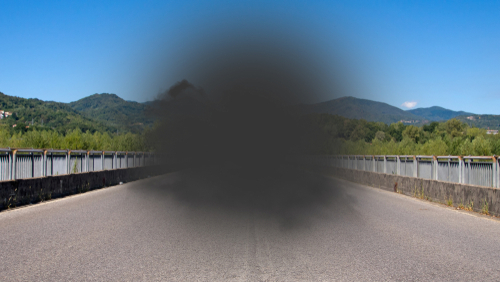 Eye problems that lead to loss of sight are concerning at any age. Macular degeneration is a condition typically associated with older adults.
The age-related form, known as AMD, tends to affect individuals over the age of sixty. Younger adults can experience macular degeneration; however, the causes are entirely different.
Keep reading to learn about macular degeneration, how it affects your vision health, and how you can get this eye condition earlier in life!
What is Macular Degeneration?
The macula, a portion of the retina just above the optic nerve, is what enables you to see clearly in your direct line of sight. Macular degeneration causes blurred or reduced central vision.
However, side vision, also known as peripheral vision, is typically not affected.
What is AMD?
Age-related macular degeneration (AMD) is most common in adults over sixty and is the leading cause of vision loss and blindness in those over sixty-five. As you age, the macula can thin, losing cells essential to your vision.
Dry macular degeneration is regarded as an early-stage disease. As it worsens, it can develop into wet macular degeneration.
Only ten percent of dry macular degeneration cases progress to late-stage disease. However, wet macular degeneration accounts for ninety percent of the blindness caused by all cases of this condition.
What is Juvenile Macular Degeneration?
Juvenile macular degeneration, also called juvenile macular dystrophy, affects children and young adults. They are hereditary eye disorders passed down from the parents.
The most common one is Stargardt disease. Others include Best disease and juvenile retinoschisis. All forms of juvenile macular degeneration are rare, with the latter two much rarer that Stargardt disease.
Symptoms of juvenile macular degeneration can first appear during the years of childhood or adolescence and are similar regardless of the disease. While Best's disease develops slowly, with patients having near-normal vision well into adulthood, those with Stargardt disease often end up with 20/200 vision, which is defined as legally blind.
Juvenile retinoschisis not only affects central vision but can also impact side vision. For patients with Juvenile retinoschisis, half lose their peripheral vision.
Genes and Juvenile Macular Degeneration
Because juvenile macular degeneration is a genetic disorder passed down from parents, it is far less common than AMD. Stargardt disease is linked to a recessive gene, meaning that a child must inherit genes from both parents for the condition to be expressed.
Best's disease is a dominant gene, so a child only has to inherit the gene from one parent for the disease to develop. Juvenile retinoschisis is a genetic mutation linked to the X chromosome and predominantly affects males who inherit this chromosome from their mothers, as fathers contribute the Y chromosome.
What Are the Symptoms of Macular Degeneration?
Whether macular degeneration is age-related or the juvenile form, the symptoms are similar:
Blurry or blind spot in central vision in one or both eyes
Visual distortions such as straight lines bending
Words on the page or screen look blurry
While there is no cure for juvenile macular degeneration, there are clinical trials using gene therapies to treat the condition. Wearing sunglasses to protect the eyes from UV rays is recommended for those with juvenile macular degeneration and those wanting to preserve their sight.
Do you want to learn more about macular degeneration? Schedule an appointment at EyeHealth Northwest in Portland, OR, today!
---